How did fmcg industry benefit from british east india company world over
What was the East India Company?
The English East India Company (EIC) started as a joint-stock company under the royal charter issued by Queen Elizabeth. For more than two centuries, it grew and remained a powerful force in India, exerting influence in the ruling of the country. It was the leading factor in creating the British Empire.
Why was the EIC so successful?
Dutch sold Black Pepper, Red Chillie, Turmeric, Seeds etc. spices to Britain after getting from India. Dutch community decided to increase the rate of Black Pepper by 5 shillings/pound. (5 shillings = $0.45/pound = Rs 15/kg)
(Illustration of forming of East India Company by Maurice Greifenhagen, 1908)
24 leading businessmen and merchants of British Community of that time held a meeting in Leadenhall Street, London on September 4th, 1599. In the afternoon, these 24 merchants decided not to buy Black Peppers from Dutch, but do a direct business with India. £72,000 were put on the table by 24 men that day.
The East India Company started trading in Spice Islands, a collection of 13,000 islands the most important of which is today's Indonesia. However, after a series of wars with the Dutch, they decided to start trading in India. Up until then, India was just the route to the Spice Islands. After shifting from Indonesia to India, the company saw unprecedented success. This growth was the result of a highly efficient administration system. The whole administrative structure consisted of 24 directors organized into different committees. The chairman of the company was elected by the shareholders. There was a well-organized hierarchy of officers with various ranks.
There was also a wide range of merchandise traded by the EIC. They ranged from porcelain and indigo to textiles, coffee, and tea, and even saltpeter (potassium nitrate, the main ingredient for making gunpowder).
All these factors created an immense power for the company. It was even treated as a corporate personality informally referred to as 'The Honorable company' or 'John Company'.
A flag of the English East India Company 1801. (Image: Yaddah assumed (based on copyright claims)./Public domain)
What was the British East India Company trading with India?
What were the goods that the East India Company was bringing to India:
>a little amount of coffee from Mocha and other ports of the Persian gulf.
>a few hundred horses from Persia
lots of bullion that was then given to Indian mints for making purchase of goods within India.
This happened till c. 1758. After the conquest of Bengal the East India Company stopped bringing in such goods to India.
Taking from India:
> a wide variety of Indian cotton textiles and silks from China and India. India supplied lots of plain cotton cloth of the cheaper variety and only a slightly lesser amount of coloured cloth which had a demand among the fashionable crowd of Europe. Prints were preferred to cloth woven with multicoloured thread since prints were cheaper to produce.
>saltpeter (India was almost the only reliable supplier to Europe of this important component of gunpowder)
> some porcelain and Chinese tea (in the seventeenth century)
By the late 17th century Bengal had begun to emerge as an important source of supplies that the East India Company could purchase for sale in Europe. Goods purchased from Bengal included cotton cloth, opium, saltpeter, sugar and silk.
The total business of the English and the Dutch East India Companies from Bengal did not exceed 150 tons annually in the 1730s. In contrast, business by Asian merchants in the 1730s and exported by land outside of Bengal was over 750 tons per year– five times more than the business of the East India Companies.
By the late 18th century goods brought to India by the British East India Company had become almost negligible. The export of silks from Bengal fell to a neglible portion of the total 500 tons per year silks being carried by the Company. The Company was now sourcing most of its requirements from China and other Asian countries.
In the late 18th century the East India Company began to bring into India irons and iron goods like cannons and guns for sale to India. It also began to purchase opium in India and take it to China for sale.
The real volume of the textile trade remained almost constant between 1700-1800.
 "What was the East India Company?"
The East India Company had been involved in everything from getting China hooked on opium (the Company grew opium in India, then illegally exported it to China in exchange for coveted Chinese goods) to the international slave trade (it conducted slaving expeditions, transported slaves and used slave labor throughout the 17th and 18th centuries).
The East India Company may have since been overshadowed by modern capitalism, but its legacy is still felt around the world.
How did the East India Company purchase Indian goods?
Imported:
Silver
Gold
Diamonds
Weapons
Alcohol
Medicines (Quinine / Smallpox inoculations)
Local loans
Land auctions
Opium auctions
Shipping charges on:Mail
Private trade
Indentured labourers
Brides
Tax revenues / Custom duties
Fines / Penal revenue
From: East India Company – Wikipedia
From: In Search of Stability: Economics of Money, History of the Rupee, By Sashi Sivramkrishna,
From: The Digital South Asia Library-Statistics
see also: Modern World System and Indian Proto-industrialization: Bengal 1650-1800, Singh A.k., 
How and why was black tea invented, and why did the British import black tea, but don't seem to have imported green tea (as much)?
Black tea was first produced in the late 16th century. Fermenting the green tea leaves allowed them to be stored longer. This, not coincidentally, allowed them to be shipped greater distances, spending many months in the holds of the European vessels which had started to come to trade in China not long before that. Black tea was, in short, an excellent export good, so that's what made it to Europe. It was the Portuguese who started importing it in the early 17th century, and tea made the move to England in the 1660s when the Portuguese Princess Catherine married King Charles.
Why is tea considered an Indian thing? Wasn't tea introduced by the British?
.
Yes tea is considered an Indian thing because nobody prepares the "Chai" quiet like us.
Chinese and Japanese just brewed the leaves and drank it.
We made our own recipe with milk and spices (masala) and made it into every household as an essential drink.
Britishers did introduce tea to india rather smuggled it to India and we made it popular.
 An interesting article published by The Hindu on How chai arrived in India 170 years ago
It all began with a Scottish mandarin who smuggled a tea plant from China in 1848
Britain's first taste of tea was belated — the Chinese had been drinking it for 2,000 years. The English diarist, Samuel Pepys, mentions tea in his diary entry from September 25, 1600. "Tcha," wrote Pepys, the "excellent and by all Physicians approved, China drink," was sold in England from 1635, for prices as high as £6 to £10 per pound of the herb (£600 to £1,000, today). In 1662, when King Charles II married the Portuguese princess, Catherine of Braganza, her dowry constituted a chest of tea, and the island of Bombay for an annual lease of £10, equivalent then to the cost of a pound of tea in England. Catherine, who was used to drinking tea in the Portuguese court, had her first sip of the beverage in England in May 1662 — the month of her wedding — at Portsmouth.
In the 18th century, Dutch firm J.J. Voute & Sons ruthlessly exploited the incapacity of the English East India Company to supply tea to Britain's thriving domestic elites and coffee houses, smuggling about eight million pounds of tea, annually. Yet, Dutch tea soon became a "name for all teas that are bad in quality and unfit for use." Meanwhile, the English company began strengthening its commercial ties with China, as Bombay turned into the seed of British India's commerce, escalating all other European — especially Portuguese and Dutch — operations.
Fmcg brands and companies with pre-1947 roots
Truly Made in India.
Origin of Famous Indian Brands
Indian companies had appeared even during British rule. Prominent among these are Tata Group (1868), Dabur (1884), Godrej (1897), Vadilal (1907), and Parle G (1929). The oldest joint stock bank was Allahabad Bank, established in 1865. 
Initiative pertaining to Indian brands was taken after independence from 1952. For instance, Jawaharlal Nehru was concerned about Indian women using foreign cosmetics. So on his instruction, JRD Tata and Simone Tata created Lakme.
The Right Mindset
Changing the attitude towards creating something new is essential for Indian brands to grow. In the words of JRD Tata, "Never start with diffidence, always start with confidence." Success stories are made only when someone decides to change the course of his or her life.
Overcoming social stigma can take you a long way to achieve your goals. A persistent attitude is essential in getting a position as an Indian brand among international brands.
Some of the following famous Indian brands were originally foreign and now have Indian owners. Others were created in India but flaunt European names. They strive to produce famous products in India.
Here is a list of  famous Indian brands that live up to the international standard.
Royal Enfield
Originally a British company, this brand was established in 1893. The old Royal Enfield bikes were produced under the Enfield Cycle Company, as it was called then. Eicher Motors, an Indian motorcycle company founded in 1948, bought it in 1994. The name was also changed to Royal Enfield India. The characteristic thumping engine sounds and high capacity engines of these bikes made in India enthrall our ears.
Van Heusen India
Van Heusen is a clothing brand under PVH Corp., formerly called the Phillips Van Heusen Corporation. Founded in 1889, PVH was named after Dutch immigrant John Manning Van Heusen. Van Heusen India, the Indian section of the brand, is owned by Aditya Birla Fashion and Retail Limited. The products of Van Heusen India are made in India. ABFRL is India's first billion dollar fashion powerhouse.
Allen Solly
Allen Solly was created in 1744 by William Holin and Company Limited. However, the apparel brand came into Indian hands in the late 20th century. It was bought by Madura Garments in 1993. Soon, Aditya Birla group acquired the ownership rights in 2001 and turned it into a famous Indian brand. Designed mainly for men, Allen Solly shirts have a popular fan base in India and abroad. Living in the digital world, we can easily order snazzy clothes from the Allen Solly online store.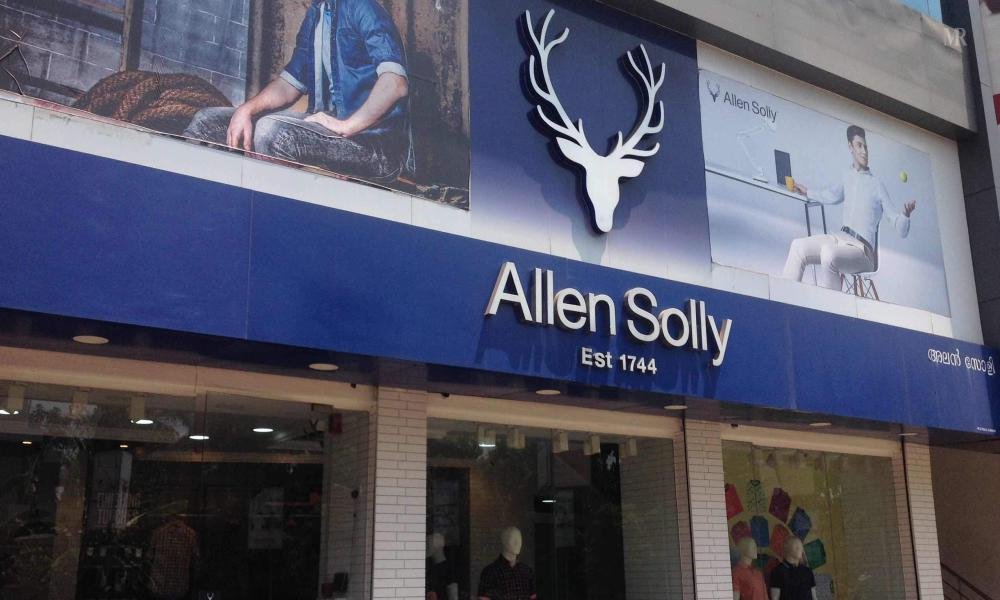 Old Monk
Usually deemed as popular foreign liquor, Old Monk Rum is an Indian dark rum brand. It was first brought to the market in 1954 by Mohan Meakin Limited in Ghaziabad, Uttar Pradesh. The lack of advertising has not stopped it from being the biggest Indian Made Foreign Liquor Brand (IMFL) for several years. In 2013, it was the world's largest black rum selling company. Old Monk is made in India and sold by retailers in Russia, Japan, USA, Estonia, UK and other countries.
Old Monk
Fmcg Brands & Companies operating in India Since British East India Company  
Ardeshir was born in 1868 in Mumbai to a Parsi-Zoroastrian family. He was a law student at the time, like many other financially well-off Indians, but the law wasn't for him, and he returned to India soon after. He then started working as an assistant in a chemist shop, where he developed an interest in manufacturing surgical instruments, which he later turned into his first business. Godrej is a well-known brand in our country, and we've all used its appliances or other products at some point in our lives.
Source: Alchestron.com
 Byramjee Jeejeebhoy Esq.
You May Also LikeSir Byramjee Jeejeebhoy Esq., aphilanthropist, was one of the famous Parsis of India in the nineteenth century who established several educational institutions in Mumbai. He founded two notable colleges: Byramjee Jeejeebhoy College on Charni Road, South Mumbai, and Byramjee Jeejeebhoy Medical College in Pune. Byramjee leased a grant of seven villages between Jogeshwari and Borivili from the British East India Company in October 1830. Land's End, Bandra, a cape with the Bandra Fort that became known as the Byramjee Jeejeebhoy Point, was also given to Byramjee. Byramjee constructed his home on a hill overlooking the fort. Byramjee Jeejeebhoy Properties Limited is now the city's fifth-largest landowner.
Source: npg.org.uk
 Sir Dorabji Tata
Sir Dorabji Tata was the firstborn son of visionary Jamsetji Tata, the Tata group's founder, and was born on August 27, 1859. Sir Dorabji Tata inherited not only his father's business acumen, but also his father's spirit of selflessness and altruism.
Source: Wikipedia
Homi Jehangir Bhabha
Homi Bhabha was an Indian physicist who played a key role in the country's nuclear energy program. Bhabha's contribution to the development of atomic energy made him a well-known figure in scientific circles around the world. In 1955, he presided over the United Nations Conference on the Peaceful Uses of Atomic Energy, and from 1960 to 1963, he presided over the International Union of Pure and Applied Physics.
Source: Wikimedia Commons
 Jamsetji Tata
Jamsetji Tata was another one of the famous Parsis of India. He is an entrepreneur who helped India join the ranks of the developed world. He was a patriot and a humanitarian whose ideals and vision shaped an extraordinary business empire. In the 1870s, the Tata group's founder started with a textile mill in central India. His vision fueled India's steel and power industries, laid the groundwork for technical education, and aided the country's ascension into the ranks of developed nations.
Source: Wikimedia
How the East India Company became the world's most powerful business
At the dawn of the 17th century, the Indian subcontinent was known as the "East Indies," and—as home to spices, fabrics, and luxury goods prized by wealthy Europeans—was seen as a land of seemingly endless potential. Due to their seafaring prowess, Spain and Portugal held a monopoly on trade in the Far East. But Britain wanted in, and when it seized the ships of the defeated Spanish Armada in 1588, it paved the way for the monarchy to become a serious naval power.
In 1600, a group of English businessmen asked Elizabeth I for a royal charter that would let them voyage to the East Indies on behalf of the crown in exchange for a monopoly on trade. The merchants put up nearly 70,000 pounds of their own money to finance the venture, and the East India Company was born.
The corporation relied on a "factory" system, leaving representatives it called "factors" behind to set up trading posts and allowing them to source and negotiate for goods. Thanks to a treaty in 1613 with the Mughal emperor Jahangir, it established its first factory in Surat in what is now western India. Over the years, the company shifted its attention from pepper and other spices to calico and silk fabric and eventually tea, and expanded into the Persian Gulf, China, and elsewhere in Asia.
How was trade with India profitable for the British East India Company?
Picture this,
British East India Company = A
Indians = B
A comes to the land of B and find abundance of raw materials of textiles, food products and spices. A sees how Indians used most of those products in a generic fashion. A says, let me take these things to my hometown, I've great tools and machineries to fine tune and create great quality, fine tuned end products, B says, no I'm fine with what I make out of them and use.
A starts whipping B. A then force stops all mills and generic factories. A then buys ₹10 worth of raw materials at ₹1 and then ships it to their own land and does basic manipulation and processing, brings back the processed good and sells it to B at ₹1,000 (yes, pricing and taxation would add up to nearly 100–200% of original raw product price and sometimes reaching 1000% of the price they forcibly bought raw product at. A makes quick bucks by repeating the process at scale and become enormously rich.
That's how they made trade extremely profitable:
a) Buying raw materials at lesser than the already cheap original prices,
b) Shipping them to Britain,
c) Processing them, packaging them,
d) Shipping back to India to sell the same at exorbitant prices.
The trading firm took command of an entire subcontinent and left behind a legacy that still impacts modern life.
How the British East India company exploited the trade and livelihood?
From the prehistoric times (from the Indus valley civilisation), India had a flourishing trade relation with other parts of the world. Indian products were highly regarded in the Egyptian and roman empire and fetched high prices in the foreign lands.
The excellent levels of craftsmanship were held in high regard and enjoyed a global reputation. Notable ones are handicrafts and textile industries. Shawls and carpets from Kashmir and Amritsar, silk sarees of Benaras and silk cloth of Nagpur are some examples.
In ancient and medieval times, India excelled in the artistic handicraft industry which includes jewellery made of gold and silver, brass, copper and bell metal wares, marble work, carving works in ivory, wood, stone, artistic glassware etc. All of the above-mentioned items including cinnamon, pepper, opium, indigo etc. constituted a major proportion of exports from India. Effectively, India was exporting high quality manufactured goods to European countries and owned a respectable share in the world economy.
Having established itself well on the world map, pre-colonial India was blooming with opportunities. At the beginning of 19th century (more appropriately the begining of the second half of the 18th century), the share of India in the world economy was around 20% which was steadily increasing. But by the time British left India, the share was reduced to around 4%. Thus, the colonial rule paralyzed the foreign trade also by a large proportion.
Traders: the East India Company & Asia, Image courtsey – Pinterest
After the arrival of British, these industries were destroyed slowly as Britishers followed the process of de-industrialisation of Indian industries to make way for British industries to flourish. Lets discuss in details.
Devastating effects of the Colonial rule on Indian Industries and Trade:
1.The decay of Handicraft Industries: The traditional handicraft industries in India which were flourishing and was known worldwide were completely and systematically de-industrialised and devastated under the British rule as they stopped the handicraft export by placing tariffs on exports.
The Primary motive of British East India Company behind de-industrialization was two-fold
(i) To make India a net exporter of Raw material to the British Industries.
(ii) To sell British products at a higher rate in the Indian market.
They also followed certain Discriminatory Tariff poll to prevent the export of Indian products worldwide. Discriminatory Tariff policy signifies free export of raw material from India and Import of Finished product from Britain while placing a heavy duty on Export of Indian handicrafts to any other countries.
Also, there was stiff competition from the machine-made products which were imported at a high price from Britain as a result of rapid industrialisation and access to cheap raw material from India and other colonies of Britain. With the introduction of Railways, the reach of British products increased to every corner of the country. All these factors led to the downfall of textile and handicraft industries in India.
2. Slow Growth of Modern Industries: The Colonial rulers never permitted modernization nor did they encourage the growth of Industries. Unbalanced and lopsided growth structure was a legacy of British rule in India.
Besides, there was a scarcity of basic and heavy industries that hindered the growth as capital goods industries were lacking.Capital goods industry refers to the industry which produces goods such as machines, tools, etc. which are further capable of producing consumer goods.
Primary objective of the British rulers was to develop such an industry in India which would never be able to compete with the British Industry rather be dependent upon British industry for capital goods.
3. Suez Canal: Additionally, the opening of Suez Canal intensified this control over Indian foreign trade by the British rulers.
Opening of the suez Canal, Image coutsey – Christine Trent
4. British Empire Exhibition: The British Empire Exhibition was a colonial exhibition held at Wembley Park, Wembley, England from 23 April 1924 to 31 October 1925. The British Empire Exhibition was a venture designed to promote the benefits of empire to the wider British public. The exhibition was opened in 1924 and after an initial run of six months it reopened in 1925. The main objective was to showcase manufactured goods, arts and crafts, as well as historical artefacts from each of the Dominions, the Indian Empire and Britain's African and Caribbean colonies. A cultural events programme accompanied the exhibition, as well as a series of conferences. This might not be a process by which the Colonial rulers actually exploited trade but it shows how Britain flaunted its colonial wealth and dominance thereby encouraging its internal market.
Advertisement for the Indian Pavilion and British Empire Exhibition. Image courtsey – British Library
Image courtsey – Wikipedia
Hence the above points will cleary explain how and why the British East India Company and later the British Raj exploited the trade and industrial machinery of India.
At 70, India has come a long way from the country the British exited in 1947, and which they believed (and hoped) would not survive in its then form. India has since evolved into a vibrant constitutional democracy and made rapid strides in several domains (although there is a lot of work still to be done).
Over the next few days, to mark the 70th anniversary of India's independence, Mint will profile 70 milestones across the years, and across domains—politics, business, entertainment and sport. Put together by Mint's reporters and editors, these entirely subjective listings are far from comprehensive, as is only to be expected when one is dealing with the seven-decade-old post-independence history of a country as large and complex as India
Wholesaler-Distributors Guide To Ecommerce. Through these tough times when traditional...
Read More