Who are the key players and brands in bakery business?
Ingredients+ Machinery + Innovative Chef = Profitable Bakery
|  Logo | Brand Name | F | Company Portfolio |
| --- | --- | --- | --- |
| | Bake Shake |  O |  Baking ingredients including baking essentials, powders & mixtures, foodant & sugar paste |
| | Bakels India |  O | Manufacturer, distributor of high quality bakery ingredients which are innovative ingredients |
| | Bakersville |  D |   wide range of bakery ingredients such as cake & dessert mixes, icings, fodant & modeling paste, baking aids & food additives. |
| | Bakerykart | S |  Innovative & latest baking products including cake decorating supplies, baking flours, cake premixes, food extracts, food coloring, fondant  |
| | Biolaxi Corporation | E | A leading manufacturer, exporter and supplier of well-designed range of enzyme formulations |
| | Grain 'N' Grace | R |  Baking ingredients manufacturer in India creating custom made products that suit customers' preferences |
| | Gujarat Enterprise | V | Exporter, importer and distributor of ingredients & raw materials like flavors in india and abroad for confectionery, bakery, dairy and more |
| | Praras Biosciences | I | Creating a unique businesses processes in the Indian food and beverages industry with excellent services in contract manufacturing and troubleshooting |
| | Rich Products & Solutions | C |  Family-owned, customer-focused digitally-enabled, fast-growing food service company that doesn't sell just products but provides solutions |
| | Swiss Bake Ingredients | E |  Bakery improvers & ingredients, european bread mixes, french style flours, sponge cake & muffin mixes, customised baking solutions |
Key Market Trends
Surge in Demand for Free-from Food Products
Free-from food products (particularly gluten-free products) are not only consumed by people with celiac disease, but also by the general health-conscious population. The demand for gluten-free products arises out of the belief that gluten-free and sugar-free edibles help people overcome problems related to bloating, indigestion, obesity, diabetes, etc. Thus, bakery products, which claim to be fat-free, sugar-free, gluten-free, whole wheat, and salt-free are gaining popularity among the health-conscious consumer category.
Moreover, according to the Agriculture and Horticulture Development Board, United Kingdom, the free-from food market is expected to record an average growth of 10% every year for the next three years, and the share of bakery products and cookies in the free-from food category is around 35%. This, in turn, is indicating a lucrative market opportunity for free-from bakery products.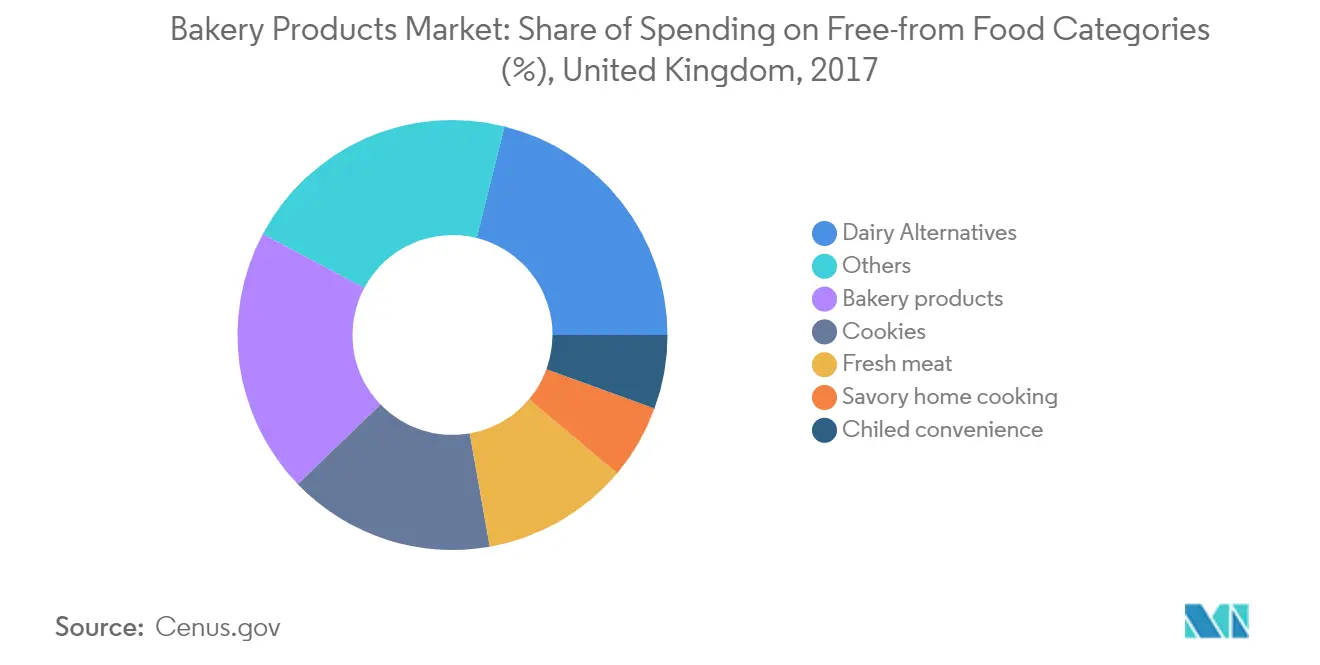 Europe Dominates the Consumption of Bakery Products
Europe accounts for the largest revenue share in the global bakery products market. On the one hand, the developed markets of Western Europe are matured and saturated when it comes to bakery products. On the other hand, the emerging markets of Eastern Europe are driving the sales of biscuits and bread, in particular, owing to the high demand for convenient food products.
The European bakery products market is well-established in terms of the supply chain, product array, distribution channels, and consumer preferences. Innovations and new product development are increasingly observed in the indulgence-categories, like cakes, pastries, and cookies. The traditional morning goods in Europe are witnessing a prevalence of gluten-free, whole grain, ancient grain, and additive-free products. Such products have the potential for higher sales due to the growing demand for instant and nutritious baked products.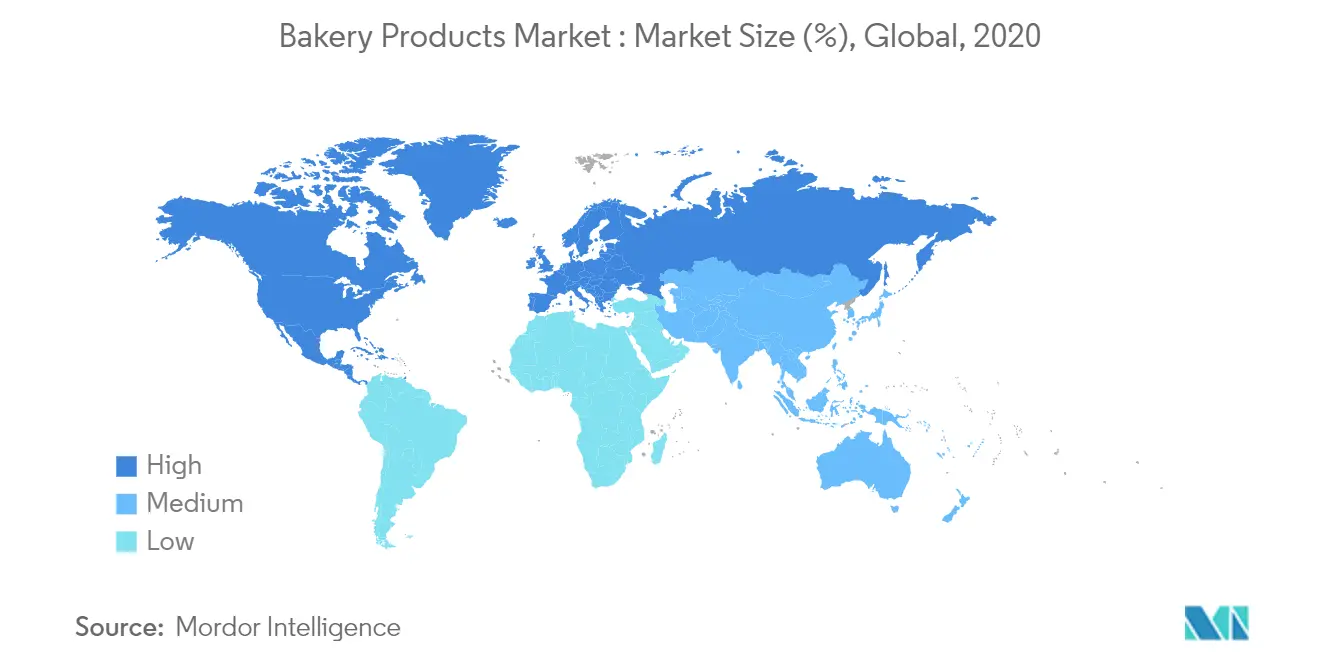 Competitive Landscape
The global bakery product market is a highly competitive market, particularly with the significant presence of numerous global and regional players. Finsbury Food Group Plc, Mondelez International, General Mills Inc., Britannia Industries Ltd, and Grupo Bimbo are some of the leading players in the global bakery products market. The strategies of expansion and partnership agreement have been crucial behind the development of bakery product companies.
Recent Developments
In February 2021, Modern Foods has been bought by Grupo Bimbo from homegrown private equity fund Everstone Capital. Everstone had acquired the brand from Hindustan Unilever in 2016. Everstone's bread and bakery platform Everfoods Asia consists of Modern Bread brand as well as others like Cookie Man.
In May 2021, Mondelez International (MDLZ) has agreed to acquire Greek snacking company Chipita S.A. for approximately USD 2 billion. Chipita produces and markets savory and sweet snacks. The company's portfolio of croissant and baked snack brands includes 7Days, Chipicao and Fineti. It generated revenues of approximately USD 580 million in 2020.
In September 2021, Finsbury Food Group is expanding its Mary Berry supermarket cake range with the launch of Bundt cakes. The Bundt cakes come in two flavours – lemon sponge cake, with a lemon icing, lemon curd drizzle and hand-decorated Belgian white chocolate curls; and chocolate sponge cake, featuring chocolate icing and hand-decorated with Belgian dark and white chocolate.
In November 2020, ITC's Sunfeast brand expanded its 'cake' category, by launching Sunfeast Caker. Sunfeast Caker is available in three formats, namely Trinity, Choco Swiss Roll, and Layer Cake, across India.
In April 2019, Puratos India launched four new products catering to the bakery, patisserie, and chocolate industry, namely Tegral Satin Purple Velvet EF, Fruitfil Range, Carat Supercrem Nutolade, and Tegral Red Velvet Sponge Mix.
In June 2018, Mondelēz International invested USD 200 million in its Opava Czech Republic biscuit manufacturing facility, which employs nearly 1,000 people and produces Power Brands like Oreo, belVita, Milka and Cadbury, for the European market.
Who are the key players and brands in bakery business In India?
Market Overview:
The Indian bakery market reached a value of US$ 10.2 Billion in 2021. Looking forward, one expects the market to reach US$ 19.3 Billion by 2027, exhibiting a CAGR of 10.94% during 2022-2027. Keeping in mind the uncertainties of COVID-19, we are continuously tracking and evaluating the direct as well as the indirect influence of the pandemic. These insights are included in the report as a major market contributor. 
Bakery products are food items which generally include biscuits, cakes, pastries, flat-bread, tortilla, chapati, bun, croissant, etc. These products are rapidly gaining popularity owing to their pleasant taste and health-benefits as they are made from a variety of grains such as rye, maize, wheat, and oats among others. The other ingredients used for baking include water, eggs, baking soda and powder, nuts, and additives. As bakery products provide both convenience and affordability to the consumers, their consumption level has witnessed a rise in the past few years.
Indian Bakery Market Size, 2022-2027 (in US$ Billion)
202220232024202520262027050100150200
| Projected Bakery market in India |   |  Dollar |
| --- | --- | --- |
| 2022 |   | 159 |
| 2023 |   | 168 |
| 2024 |   | 176 |
| 2025 |   | 185 |
| 2026 |   | 193 |
| 2027 |   | 200 |
As breads and biscuits are fast-moving consumer goods (FMCG), they are consumed on a daily basis by the consumers which increases the sales of these products in India. In addition to this, growth in the fast-food chains further stimulates the demand for breads as they are used in sandwiches, burgers, soups, snacks, etc. Moreover, introduction of value-added bakery products is giving an impetus to the market growth. Apart from this, busy lifestyles, changing eating habits and western influence has reflected in a strong demand for
bakery products
 in India.
Key Market Segmentation:
 Analysis of the key trends in each sub-segment of the Indian bakery market, along with forecasts at the country and regional level from 2022-2027.
 Report has categorized the market based on product type and distribution channel.
Breakup by Product Type:
Indian Bakery Market Share, By Product Type (in US$ Billion)
BiscuitsBreadCakes and PastriesRusk10%10%20%60%
| Bakery Categorywise market share |   |
| --- | --- |
| Biscuits | 60 |
| Bread | 20 |
| Cakes and Pastries | 10 |
| Rusk | 10 |
Biscuit

Cookies
Cream Biscuits
Glucose Biscuits
Marie Biscuits
Non Salt Crackers Biscuits
Salt Crackers Biscuits
Milk Biscuits
Others
Bread

Sandwich Breads
Hamburgers
Croissants
Others

Cakes and Pastries

Packed Cupcakes
Pastries
Muffins
Layer Cakes
Donuts
Swiss Roll
Others

Rusk 
Based on product type, the market has been segmented in breads, cakes and pastries, rusks and biscuits. Currently, biscuits dominate the Indian bakery market, holding the largest share.
Breakup by Distribution Channel:
Convenience Stores
Supermarkets and Hypermarkets
Independent Retailers
Artisanal Bakeries
Online
Others 
On the basis of distribution channel, convenience stores represent the largest segment, followed by supermarkets and hypermarkets, independent retailers and artisanal bakeries, online and others.
Breakup by Region:
North India
West and Central India
South India
East India 
Competitive Landscape:
The competitive landscape of the market has also been examined with some of the key players being Britannia Industries Limited, ITC Limited, Parle Products Private Limited and Surya Food and Agro Limited.
Packaged Cake is Emerging as the Fastest-growing Market
The packaged cake segment has been holding a very low market share since 2015 in the Indian packaged bakery market. However, it is the fastest-growing category due to the development of vegan packaged cakes. India is a very diverse country, with approximately 40% of its population being vegetarian. The introduction of vegan cakes is expected to contribute a major chunk to the market growth. Frontier Biscuit Factory Pvt. Ltd is one of the popular companies in the northern part of India, with a rich product portfolio in the vegan packaged cake market.
Both online and offline sales channels make equal contributions to the market growth in India. The major market is dominated by rural and semi-urban populations in areas where convenience stores and supermarkets/hypermarkets gain high tractions. Online channels are gaining popularity in the urban areas, especially in the tier-1 and 2 cities, due to the high market penetration of grocery delivery services, like BigBasket and Amazon groceries.
Competitive Landscape
The Indian cake market is highly fragmented, particularly with the significant presence of numerous local and regional players. Monginis, Elite Group of Companies, Frontier Biscuit Factory Pvt. Ltd, Winkies, etc., are the major players operating in the market. Whereas, Monginis is one of the prominent players in the market due to its diversified product portfolio. The major strategies adopted by the companies in the global bakery product market are new product launches, agreements/partnerships, expansions, and acquisitions.
A large number of bakers are offering healthy alternatives to high-calorie and high sugar products, which is anticipated to be a primary factor for market growth. The addition of new flavors in the market is also anticipated to positively impact industry growth.
Major Players
Puratos
ICL food Specalities
Delmont'e
Ornima Bakery Products
Recent Developments
In 2021, Monginis launched its all-new Cranberry Cake in Pune, Maharashtra.
In 2021, Theobroma opened four outlets in Bengaluru. Covering different parts of the city, these outlets were launched in Indira Nagar, Koramangala, Vittal Mallya Road, and Jayanagar.
Is bakery business profitable in India?
Yes, the Bakery Industry in India is profitable as backed up by several facts and figures. The Bakery Industry in India reached a value of US $7.22 Billion in 2018and further, the market value is projected to exceed US12 Billion by 2024. When done right without compromising on quality or quantity, the bakery business is easy to scale from your first location or home-setup to multiple outlets. First, you must select what type of bakery you want to run if it's a bakery café, home-bakery, or delivery kitchen which is popularly known as cloud-kitchen. You need a strong business plan and market analysis before you step into the Bakery Industry in India.
What is the market segment of a bakery?
How competitive is the bakery industry?
Is bakery a profitable business?
Are breads and biscuits part of fast-moving consumer goods (FMCG) ..
Who are the key players/companies in the Indian bakery market?
List of Bakeries Companies in India
Bisk Farm
Elite Foods
Sam Enterprises Private Limited
Prakhya Groups
Samay Foods Private Limited
Prabhat Udyog
Feroze Foods and Flavours
Bakeries Products
Cakes
Pastries
White breads
Cheese breads
Garlic breads
Ginger breads
Brown breads
High fiber breads
Buns
Burgers
Pizzas
Patties
Sweets
Candies
Chocolates
Biscuits
Cookies
Tarts
Crackers
Pies
Desserts
How much money can a bakery business make?
Considering all factors, the average profit that you can earn from a bakery business on a small-scale will be around Rs. 60,000 to 1.2 Lakhs per month. It must be noted that the profit earned will depend on the number of bakery items that you prepare. For instance, if you are dealing with multiple products, then you can earn more than Rs. 2 lakhs per month. 
How much space is required?
The space required for this business is about 500 square feet. If there is no space, you can take the space on rent and show it in the project file.
What Licenses are Required for Bakery Business
You may need five licenses – FSSAI license, GST Registration, Local Municipal Corporation Health License, Police Eating House license & Fire License.
Basic Equipment
To start this business you will need – Planetary Mixers, Oven, Deep Fridge, Cooling Fridge, Working table, Gas stove, Cylinders, storage utensils etc.
Cost and Profit Details
Investment required
The investment in the bakery business will depend on various equipment, raw materials, labour and location. The cost or investment will also depend on the scale of business you are planning.
Get Government Support to start bakery business
If you want to start a bakery business, then the Central government will help you. You can take the help of Pradhan Mantri Mudra Yojana to start a bakery business. All you need to do is visit your nearest bank and tell them about your business plan. Accordingly, they will tell you how much loan they can provide you under Mudra yojana.
What Is a Commissary Kitchen?
Commissaries are rentable commercial kitchens where foodservice operators can prepare and store their food. Many commissary kitchens provide food trucks and mobile vendors with overnight parking and equipment storage. While rentable commercial kitchens often provide additional services for food trucks, they're used by a variety of off premise dining operations.
The best thing about this business is that people from both villages and cities can start and earn profit from it.
How competitive is the bakery business?
Today it is the fastest growing segment within the food industry. Also, with the increased exposure of food and food receipes on netflix, movies, amazon prime .
In general being one of the youngest nations in the world – we have a long way to go – but the road ahead looks promising to say the least.
What's the difference between bakery and patisserie?
The difference between bakery and patisserie is that bakery is a shop in which bread (and often other baked goods such as cakes) is baked and/or sold while patisserie is (uk) pastry shop.
Tail Piece.
Who ever that may be,Who said "One mans food is another mans poison"? was he…
Catchy Bakery Slogan Ideas
The bread and butter of life.
We use only the best ingredients to craft the perfect loaf.
The perfect way to start your day.
The quality of bread is in the details.
It's sweet, it's fluffy, it's delicious.
Home sweet bakery.
Enrich every moment.
The taste of home-baked goodness.
The best way to start the day, and end the night.
Baking the World New Classics.
Taste the goodness of our bakery.
It's sweet. It's light. It's flaky and buttery. It's right here.
The croissant that makes you feel good about the world.
Creative Pastry Shop Taglines
The sweetest stop on your journey.
Life is short, eat dessert first.
Indulge in the finest pastries and desserts
A sweet escape from the ordinary.
You cannot survive on bread alone.
Desserts to die for.
The perfect stop for a sweet or savory treat.
A sweet luxury.
Sweetness on the inside.
Experience the art of the pastry.
Gourmet cakes, pastries, and bread with every flavor imaginable.
When the going gets sweet.
Traditional sweets baked fresh every morning.
A taste of paradise.
Essental tips for selling anything to anybody. 1. The first thing to remember is that…